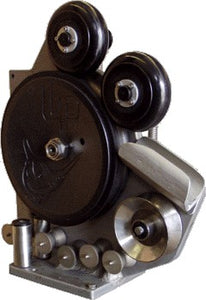 The Lindgren-Pitman LS Series Line Setters are designed to pull monofilament longlines from the hauling/storage spool at a rate equal to or faster than the boat speed, as desired. The line can be set with a predictable sag between floats for fishing baits both deep and shallow as required. Bait depth can easily be controlled by adjusting the line setter speed control. Line setting speed is displayed on an optional digital readout meter to ensure accurate and repeatable line setting.
Hook and bait depth are a function of boat speed / setter speed, distance between floats, and buoy line length plus gangion length. Using the specially designed chart provided with the LS series line setter the maximum hook depth for the particular conditions can easily be calculated.
FEATURES
Anodized Aluminum Construction
Hydraulic Motor with Stainless Steel Shaft
Replaceable Drive Wheel Elements
Automatic Main Spool Control
Speed Control; ON/OFF Control
Smooth, Quiet Operation
Dual Idler Rollers
Quick Release Idler Rollers for Easy Threading & Maintenance
Ball Bearing, Stainless Steel Entrance Guide Rollers
Digital Speed Read Out, Self Powered (optional) Mounts on Motor Side of Frame
SPECIFICATIONS:
Weight 100 lbs.
Flow & Pressure Requirements:
12 GPM @ 1,500 PSI
---
 LS-5 Parts List Adobe PDF - 1.3mb
Line Setter Manual Adobe PDF - 1.6mb
LS-5 Foot Print Drawing Adobe PDF - 97kb
LS-5 Speed Read Out Mounting Instructions Adobe PDF - 7kb
Speed Read Out Calibration Adjustment Adobe PDF - 147kb
Linesetter Hook Depth Calculation Chart - 500k
LS3 / LS4 Speed Readout Pickup Instructions - 250k